What Scouts Look For
When Evaluating Hitters
---

by Ed Herrmann
Scout-Coach-Tutor
Ed Herrmann.Com
---
EVALUATING A HITTER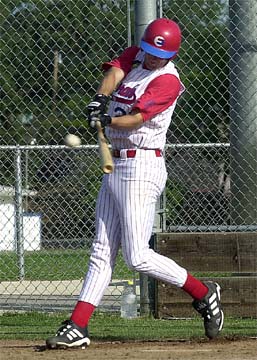 Evaluating a hitter for professional baseball is very subjective to the person who is scouting, especially when evaluating a hitter using an aluminum bat. As we all know, wood bats are completely different from aluminum, so evaluating hitters can be tricky. Hitting styles are also very personal. You can examine all the great hitters in the Hall of Fame and see that each ballplayer had his own stance and style. A scout's job is to look past some of the hitting mechanics of a player and evaluate skills. There are some skills that can not be taught, such as raw power and hand-eye coordination, which great hitters are born with. A player can work to improve their power and hand-eye coordination, but players such as Alex Rodriguez and Bernie Williams have something extra that they are born with. The following is a list of criteria used to evaluate hitters:
Hand - Eye Coordination: This involves the ability to make contact with a pitched ball. A good hitter has to be able to track a ball with his eyes and have his hands go to the point of contact with the barrel of the bat - without thinking about it. A scout will look to see if you swing and miss a lot, or if you make contact almost every time you swing the bat. "Barrel accuracy" is a term used to describe the ability to get the fat part of the bat, or the "sweet spot", on the ball with consistency. If a hitter has good barrel accuracy, then he is hitting the ball hard and has good hand-eye coordination.

Balance: This can be taught. If you watch a Major League hitter, you will notice that they rarely fall off-balance when they swing a bat. Balance also gives a hitter leverage to hit with more power.

Head Position: This too can be taught. A good hitter has his head in a position to track the ball with both eyes; they take their eyes to the ball. Your body and hands follow your head and eyes. Scouts will notice if a hitter consistently pulls his head and eyes off of a pitch, because that hitter will look off-balance and will have poor barrel accuracy. A good head position allows a hitter to remain balanced throughout the swing, regardless of the pitch being inside or away. (A good head position for beginners is when you can look down while in your stance and see that your eyes and nose are slightly in front of your toes, and when you look up at the pitcher, you have both eyes locked on your target.)

Effort Level / Tension: Your best hitters look nice and easy with their swings; they look fluid and under control. When a hitter is smooth and easy with their approach, they see the ball better and can react more efficiently to breaking balls during a swing. It is also easier to check a swing with a low effort level, giving the hitter more time to read the pitch before committing to swing. Hitters with high, or maximum, effort levels may generate more bat speed, but they lose the ability to make contact more consistently. Their muscles are tighter, which means they can not make adjustments during a swing if a pitch has movement, or break; and once their swing starts, they can not stop it, so they tend to chase more bad pitches. (The Oakland Athletics Player Development staff teaches tension level for a swing in the 75-85% effort range, although each hitter is different)

Natural Hand Speed: Certain athletes are just blessed with certain skills, and hand speed is one of those skills. Hitters with quick hands - and a low effort / tension level - have the ability to read pitches longer before committing their swing because they can get the bat through the zone quicker. Also, quick hands generate more bat speed, which generates more power.

Power: This is tricky to evaluate when the hitter is using an aluminum bat. Scouts will look at the quickness of the ball coming off the bat, the height (or loft) that the ball ascends to, and the distance that the ball travels; power to the opposite field also takes strength and gives credibility to power numbers. The number of homeruns a batter has is often misleading because of short fences, aluminum bats, and the overall quality of amateur pitching. Scouts do give a lot of credit to hitters when they drive the ball off of a pitcher who is considered a pro prospect. Average Major League power is often evaluated to be in the 15 - 20 homeruns-per-year-range.

Reactions to Breaking Balls and Other Off Speed Pitches: A hitter needs to be able to hit curves, sliders, changes, splits, etc. to be successful at the higher levels of competition. Scouts look for hitters who stay in on curves and sliders, instead of jumping back off the plate. Hitting breaking balls requires the ability to read the rotation of the pitch before the pitch is halfway home, and then anticipating where the pitch will be as it crosses the plate to determine as early as possible if the pitch is a strike or not. This requires good vision and instincts.

The Ability to Drive the Ball to the Opposite Field: With all of the off-speed pitches being thrown these days, a successful batter needs to be able to hit the ball to the opposite field with some authority. This can be taught.

How Hitters Perform in BIG Games - How They Handle Pressure: This will give a scout insight as to how the player will react to the pressures of professional baseball. Is the hitter calm and under control in BIG games? Does he thrive under pressure? Or does the hitter have a history of not performing against the best competition, and what does that say about their skills? A hitter being scouted may not get any hits, but did he battle and put the ball in play with some authority? Scouts do not base their decisions on statistics, but on the evaluation of the skills and characteristics of the player. A SCOUT WANTS TO SEE A PLAYER COMPETE EVERY PITCH UNTIL THE GAME IS OVER.

How a Hitter Performs Against the Best Pitchers and Hardest Throwers in His Area: This gives the scout an idea of how they will compete against the better pitchers in pro baseball. Does the bat speed measure up against 90 mph? Does the hitter make adjustments against a quality pitcher?

The Overall Success of a Hitter, Partially Evaluated by Statistics: Statistics are given a certain amount of respect because it speaks for the hitter's ability to be successful ... to find a way to "get it done" .... to make the right adjustments. Drafting a player in the first round who hit .220 at the amateur level is taking a BIG risk. Major League hitters are not made in the minor leagues, rather they are "refined and polished" in the minor leagues. Your best hitters could always find a way to hit at any level, despite how unorthodox they may look at times. Hand / eye coordination is the key.

Pitch Selection / Patience at the Plate: Scouts will notice if you chase a lot of bad pitches out of the strike zone. If you watch Major League hitters, guys are now hitting .300 with 30-40 homerun and 90+ walks. One walk a game, on average, turns a .250 hitter (1 for 4) into a .333 hitter (1 for 3), while increasing their on-base percentage to .500 (on base twice in 4 plate appearances). You maintain your aggressiveness for the pitches in your zone, but you do not swing blindly at bad pitches, especially with less than two strikes.
---

This is a comprehensive list of things that scouts look for in a hitter. Everything on this list may not be noted in a report, but they are noticed and judged as part of an evaluation.

Ed Herrmann.Com
---