Walking On -- Thoughts and Comments
---

by: Bob Howdeshell
High School Baseball Web
---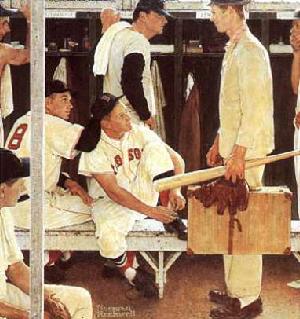 ---

Walking on at a college baseball program is not for everyone -- here's a quick look at some things to think about. Walking on at a college baseball program is not for everyone -- We all have heard the stories about the player that walked on at a major program and never played. Here's a quick look at some things to think about when a player is considering whether to walk-on.

---
"Walking on" is an opportunity for non-scholarship athletes to play a sport for a particular school. College coaches provide this opportunity for several reasons:
Most obviously the athlete may be quite talented, but not good enough to earn a scholarship. The scholarship limits in college baseball and the fact that some schools do not even fund all the allowable scholarships make having roster depth difficult, so coaches offer walk-on opportunities.

Less often but probably as obvious, the parents may well be connected with a particular university. A young athlete's mother or father may have played for the school: either or both of them may donate a substantial amount of money to the school, each year. Whatever the connection, athletes with marginal talent sometimes receive the chance to walk-on for some schools. Although such an opportunity at first is a compliment to the player, when practice actually begins, most of these athletes "walk on" the practice field but walk off with their egos bruised. To many such athletes, walking on is a disappointing and sometimes painful insight into the rigors of intercollegiate athletics. I like to say that it is no longer "Daddy Ball."

High school coaches must keep this reality in mind when they seek walk-on opportunities for their favorite players. Sometimes the bonds that high school coaches develop with certain players and the respect they gain for them in the course of a high school career may blind them to the player's limitations. The desire to help a player maintain his or her status in the eyes of a peer group or the inability of the player (and his family) to accept his limitations may help continue unrealistic expectations. Coaches are advised, therefore, to secure a range of opinions from high school and college coaches, as well as professional scouts, before recommending walking on for a particular player.
Other important considerations apply as well. Like most hunters, college coaches tend to be territorial. Although they may search the entire nation, particularly if they have a major college program, they usually maintain most of their contacts with high schools and junior colleges within their immediate regions, their own states, and four or five adjacent states.

They also establish loyalties with the coaches in the high schools they regularly recruit. This is an important consideration for potential "walk-ons". They can expect better treatment and a more legitimate chance to play when the college coach is loyal to the player's former high school coach. College coaches are quick to provide fair treatment to players if they, the coaches, plan to return to the player's former school to secure help with future recruits.
Be sure the player has the talent to play at the level you are seeking. It's sometimes best to hurt some feelings now than perpetuate a set of expectations that can cause greater pain in the future.

Do some homework, find out if the program(s) the player is considering have a history of playing walk-ons. Some do, many do not ever play their walk-ons.

Make sure the athlete plans to walk-on at a school that has his academic program. The pre-planning for student-athletes, whether on scholarship or walk-on must be the same.

Contact the coach of each school the player is considering. Determine his opportunity to play. Make sure the coach wants the player to walk-on. I would never recommend that a player try to walk-on at a school after a coach has shown little or no interest in the player!

Once the player decides on a school, call the college coach and get his name on the roster. The player will then receive the summer mailings and, in effect, becomes a full-fledged member of the team. In fact, by the time the team discovers his walk-on status, he will already be well accepted by them.

For high school coaches ---
Follow up with walk-ons as well as scholarship players to informally assess the athlete's satisfaction with their treatment. If you have developed a relationship with the college coach, you can do much to assure a good experience for each walk-on. You can also provide valuable information for all your future athletes if you follow up with those who are currently in college.
Walking on is not for every player. Keep in mind that in many cases the ultimate complaint heard from college athletes is about the, "lack of playing time received."

There are only nine starting positions and most college programs carry 25 - 45 players. That leaves a considerable number of athletes on the bench.
---